| | | |
| --- | --- | --- |
| | THE GREEN CHAIN WALK | |
This walk is complete.
I have already walked most of the Green Chain Walk several times, mostly before I started this website and more recently as part of the Capital Ring which also follows five of the stages as it makes its way round from the Thames to Crystal Palace. However as I'm not intending to start my next main walk till March now is an ideal time to write up the walk and also complete the three sections that I have not yet walked. With its numerous start points and loops it is very difficult to plan a linear walk along the route so this time around I have decided to walk the stages in the order, and direction, as listed on the Green Chain Website. This will add a few extra miles, particularly around the first few stages as I go from the end of one stage to the start of the next, but will help keep me fit!

Back to:Main walks index page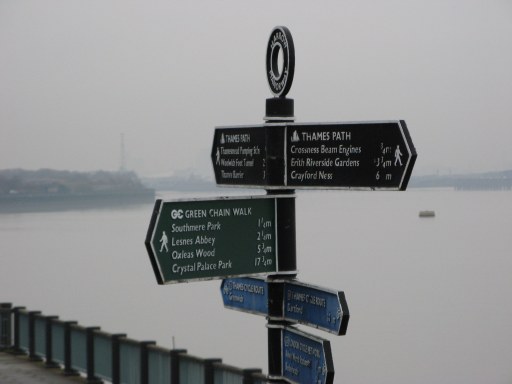 The start of stage 1 in Thamesmead on a very grey December Day