THE HERTFORDSHIRE WAY
An Introduction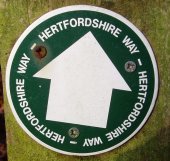 Welcome to the pages detailing my walk around the Hertfordshire Way which I intend to undertake during 2007.
The Hertfordshire Way is a circular walk that runs for approximately 170 miles around the County of Hertfordshire. A guidebook to the walk has been published by The Friends of the Hertfordshire Way and the route of the walk is also marked on most of the latest Ordnance Survey Explorer maps, although not on all of my slightly older versions. Further details of the Friends of The Hertfordshire Way can be found on their website at: www.fhw.org.uk.
I walked the first couple of stages of the route in January 2007. The official start, and thus endpoint, of the walk is at Royston although I have begin my circuit at Cuffley. The logic behind this is it is one of the nearest point of the walk to my home so I will be gradually getting nearer to home towards the finish of the walk. The Hertfordshire Way also takes two routes between Cuffley and Hertford and this will allow me to walk these as a continuous circuit, taking the alternative extension route to Hertford upon my return to Cuffley.
Although the route is only some 170 miles in length I have a feeling this walk is going to take me most of the year to complete. The guidebook, which is very well produced, splits the walk into 16 stages, (including the extension between Hertford and Cuffley). Usually I am able to get out walking about three times a month so that equates to roughly five months walking. However some of the stages run between areas that are quite remote when looking at public transport services and thus it looks like I am going to have to walk there and back to my starting point in a number of places thus increasing the number of days needed to complete the circuit as I will be unable to complete these stages in a day.
More detailed descriptions of my walks around the Hertfordshire Way can be found on the walk index page.

On to:
Day 1 - Cuffley to Hertford


Back to:Walk index page
©2012 Bertuchi.co.uk. Please contact me using the email button on the right if you have any questions or comments regarding the site. Any feedback and additional information about places of interest on the walks is always welcomed.
All rights reserved. Please contact me if you want to use any of the images or information from the site. ENJOY YOUR WALKING