COAST TO COAST PATH - Day 5
Patterdale to Bampton Grange
| | | |
| --- | --- | --- |
| | | |
| (1) White Lion, Patterdale | (2) Goldrill Beck | (3) Heading up to Boredale Hause |
We set off from the White Lion Inn, photo 1, around 9:00 am, having collected the sandwiches we had ordered the day before from the Patterdale Stores. We soon bumped into Ralph, Denis and Sylvie also just setting out from their accommodation and for a while the two groups were quite close together as we crossed over the narrow Patterdale Valley, photo 2, and began ascending up towards Boredale Hause, photo 3, and then on to Angle Tarn. All around there was low cloud sitting on the hills and it was not long into the day before we were up amongst them.
| | | |
| --- | --- | --- |
| | | |
| (4) View back towards Ullswater | (5) Chapel in the Hause | (6) View over to Brothers Water |
The first part of the climb up to Boredale Hause was quite steep and just like the previous day, a bit too soon after breakfast for a lot of climbing. However today I felt considerably better, perhaps because I had just stuck with the porridge and avoided the cooked breakfast completely. At Bordale Hause were the remains of the Chapel in the Hause, photo 5, or at least I hope that is what is pictured in the photo! From Boredale Hause the path then continues to ascend with views opening up all around including Brothers Water, photo 6 in the Valley below. I have a photo of this in my office at work taken when I went up Hart Crag and it was nice to be seeing the small lake in real life once again.
| | | |
| --- | --- | --- |
| | | |
| (7) Angle Tarn | (8) Angle Tarn | (9) Heading towards The Knott |
Shortly before we reached Angle Tarn, photo 7, we stopped to check the route and Ralph and Co caught up with us and approaching the lake we stopped for him to take a group photo of us all which turned out to be the last time that we were to speak to them; sadly none of us took a reciprocal photo. On this side of the valley the weather was quite still and we had been walking most of the way in light, but quite persistent, rain although this did ease off slightly for a short while as we headed round the tarn where we spotted some Canada Geese nesting on the island in the middle, photo 8. The Coast to Coast route then follows an undulating path through the fells, photo 9, steadily ascending more than descending, towards the Knott.
| | | |
| --- | --- | --- |
| | | |
| (10) View nr Rest Dodd | (11) Summit Cairn on The Knott | (12) Val and Chris on the path below The Knott |
To our left we there were far reaching views through the rain down the Rampsgill Valley and ahead to the High Street range although these all looked rather grey and gloomy in the damp wet weather. The route follows a fence line as it skirts round Rest Dodd, photo 10, before the path rises a little more steeply up the flank of the Knott. Myself and Sara detoured briefly off route up to the summit, photo 11, before dropping back down to meet up with Val and Chris, photo 12, as another band of rain and cloud blew slowly over the ridge.
| | | |
| --- | --- | --- |
| | | |
| (13) Straits of Rigginsdale | (14) Kidsty Pike | (15) Deer nr Kidsty Pike |
A short level section of path then led along the Straits of Rigginsdale, photo 13, before our route headed sharp left round the top of the Head of Rigginsdale beck; the path curving round the top of the valley towards Kidsty Pike, photo 14. From the Straits of Rigginsdale we had seen a German couple, who we had seen everyday walking the Coast to Coast path, heading up towards High Street and a short while later as we were heading towards Kidsty Pike we spotted Ralph, Denis and Sylvie also heading up that way rather than following the correct route. We tried to attract their attention but they were already too far away and the strong wind blowing across the ridge soon wrapped them in cloud as yet another heavy band of rain set in. Chris blew his police whistle and later on we found out that they had heard it but did not realised it was directed at them. I was feeling very cold at this point, and although I had a thick fleece to put on in my rucksack I did not really want to have to take my rucksack off, take the rain cover off, take my coat off to put the fleece on as I knew that once we were walking again I would warm up a bit and that we would soon be descending to warmer altitudes. While we were trying to attract Ralph's attention we also saw the two women from Low Cock How deliberating for a long time at the junction of paths before eventually choosing the route we had taken. With everybody go up towards High Stile, another two guys had also gone that way, I have to admit I began to feel unsure we were on the right route ourselves and actually ended up having a look at my GPS which showed the next way point clearly ahead in the direction we were going, the only time I needed to check a way point on the whole trip. I just couldn't understand how so many people could miss what was a fairly obvious junction of paths. Hopefully Ralph and the others realised their mistake before too long and were able to get back on track one way or another. As we approached the summit of Kidsty Pike we spotted four deer in the distance running across the path, photo 15, although they soon disappeared across the hill.
| | | |
| --- | --- | --- |
| | | |
| (16) The Summit of Kidsty Pike | (17) Kidsty Howes | (18) Lunch Stop overlooking Haweswater |
After a hurried and wet photo at the summit, photo 16, we began our descent down to Kidsty Howes, photo 17, and then on, quite steeply at times, down to Haweswater Reservoir. Although we had done a fair stretch of high level walking most of the paths we had been on were quite easy to walk along, without the ankle jarring rocks that lined the ridge to helm Crag and the vast expanses of squelchy bogs we had encountered elsewhere. As we approached the shores of the reservoir the sun came out for a few brief moments and a small plantation of trees provided the perfect wind break for a lunch stop on a rock overlooking the water, photo 18. With the big evening meals and breakfasts we had been eating we had all been eating very little while out actually walking and this time all I ate was a banana which I had been carrying around with me since the day we had driven up. I still had the very nice cheese and pickle roll I had brought from the general stores in Patterdale but saved that for later, along with the ever growing number of flapjacks I seem to have in my rucksack.
| | | |
| --- | --- | --- |
| | | |
| (19) Haweswater | (20) Path besides Haweswater | (21) Path besides Haweswater |
After our lunch stop we set off along the path running alongside the reservoir, photo 19, which we were to follow for almost the next four miles. The path generally runs well above the reservoir, photo 20, and was far from level with a couple of particularly steep ascents however the quality of the path does improve as it nears the dam at the far end, photo 21. Sadly the weather stayed the same, short bright interludes accompanied by much longer rainy spells in which we all got steadily wetter and wetter.
| | | |
| --- | --- | --- |
| | | |
| (22) Burnbanks | (23) Naddle Bridge | (24) Thornthwaite Force |
At the end of the reservoir we passed through the small settlement of Burnbanks, photo 22, which was originally built to house the workers who had built the Haweswater dam. This marked the point where the Coast to Coast route leaves the Lake District hills behind and the scenery changed quite dramatically from that which we had previously been passing through. Crossing a road we headed through a small area of woodland, still with bluebells in flower under the trees, before crossing over the road by Naddle Bridge, photo 23. Our accommodation for the night was the Crown and Mitre at Bampton Grange and the road here would have led us directly there. However we had only walked just over 11 miles at this point and as it was still quite early so we decided to continue along the main Coast to Coast route over to Rosgill before heading up to Bampton Grange from there, shortening both the distance we have to walk tomorrow as well as avoiding a stretch of road walking. From Naddle Bridge the path runs through pasture alongside Haweswater Beck which was being grazed by a herd of Belted Galloway cattle, passing the small Thornthwaite Force, photo 24.
| | | |
| --- | --- | --- |
| | | |
| (25) Park Bridge | (26) Heading towards Rosgill | (27) View over to Bampton Grange |
A short distance further on the path heads by Park Bridge, photo 25, before bending away from the river and heading uphill through various fields, photo 26, all edged with stone walls. From here views opened up across the fields over to Bampton Grange, photo 27, although we still had a slightly more circuitous route to take before we reached there.
| | | |
| --- | --- | --- |
| | | |
| (28) View down to Rosgill Bridge | (29) End point of day 5 by Rosgill Bridge | (30) Heading towards Bampton Grange, Dark clouds ahead |
The route crosses a road before heading over a very boggy section of moorland down to Rosgill Bridge, photo 28, which is where we left the route of the Coast to Coast path for the day having walked 13.2 miles along the route, photo 29. Crossing the bridge we met two guys we had bumped into several times before coming in the other direction. They had taken the Ullswater Ferry from Patterdale to Pooley Bridge and were walking to Shap from there as were another couple of ladies we passed a short while later on who had been staying in the room next to me in the White Lion Hotel. From Rosgill Bridge we joined a narrow road on the left, photo 30, which led up to Hegdale Farm before taking a footpath than headed across a number of fields and meadows towards Bampton Grange. There had been a slightly longer period of drier weather but just before we reached Bampton Grange the skies darkened and we got soaked once again in another heavy downpour, arriving at the pub in a rather soggy state having walked a total distance of 14.7 miles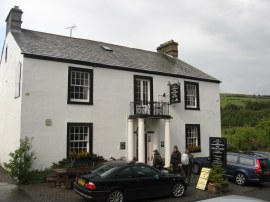 (31) Crown and Mitre, Bampton Grange
Despite the weather this had probably been my favourite days walk so far. The scenery had been varied, from the high mountains around Patterdale, the path alongside the Haweswater reservoir and then fields and meadows of the last few miles into Bampton Grange. I was also feeling quite energetic with no real aches or pains apart from the big toe on my right foot which got a little bruised heading down St Sunday Crag the previous day when my boot was not tight enough.
The Crown and Mitre was a pleasant place to stay although it was my turn to draw the short straw at dinner. I had ordered the fish and chips and while the fish was pleasant enough it came with the largest chip wedges I have ever seen, some must have been at least six inches long and I really regret not going up and getting my camera to take a photo of them, they really need to be seen to be believed. I could only eat two and half of them and my plates was still full when I had finished; if there had been considerably fewer on my plate I might have been able to eat more, as it was I was a bit over faced, once again there were enough for all four of us.
As usual I have uploaded the route of the walk which can be accessed here: Coast to Coast Path Day 5.

Back to:
Grasmere to Patterdale

On to:
Bampton Grange to Orton

If you would like to comment on this walk you can do so here:

Back to:Walk index page
©2012 Bertuchi.co.uk. Please contact me using the email button on the right if you have any questions or comments regarding the site. Any feedback and additional information about places of interest on the walks is always welcomed.
All rights reserved. Please contact me if you want to use any of the images or information from the site. ENJOY YOUR WALKING