CAPITAL RING STAGE 3
Grove Park to Crystal Palace
I walked this, the third stage of the Capital Ring on 12th February 2006, immediately after the second stage. Sometimes you need just as much mental strength as physical strength to keep on walking and today was definitely one of those days - to keep on going in the continuing rain rather than stop and give up and go to one of the many link stations on the route to get the train home.

| | | |
| --- | --- | --- |
| | | |
| (1) Grove Park Station | (2) Hither Greeen Cemetery | (3) Undershaw Road |
From the end of Stage 2 the Capital Ring goes along Marvels Lane, crosses Somertrees Avenue, goes along Coopers Lane and then crosses Baring Road before going down a footpath that leads to a bridge over the railway line not far from Grove Park station, photo 1. Photo 2 was taken looking in the other direction and shows part of the Hither Green Cemetery. There is then another stretch of road walking as the path continues along Reigate Road and crosses Verdant Lane, a destination that often appears on the Capital Ring finger posts. It was only looking at the A-Z later I realised where this actually was. The path then continues down Whitefoot Terrace, Woodbank Road and heads into Undershaw Road, photo3.
| | | |
| --- | --- | --- |
| | | |
| (4) Carving, Downland Woodland Walk | (5) Downland Woodland Walk | (6) Reward Poster, Beckenham Place Park |
From Undershaw Road the path heads into the Downham Woodland Walk, photo 5. This small strip of tree lined greenspace runs between houses for some distance, crossing a number of roads in the process. Even though it is only a thin area of green space it was alive with squirrels and birds, particularly chaffinches, and I also spotted a long tailed tit. In a number of places wooden carvings, photo 4, had been erected which made the walk slightly more interesting, seeing what was featured on the posts. After two hours it had been raining continuously and by this stage I was starting to get a little bit wet. From the Downham woodland walk another shorter stretch of road walking leads to the entrance of Beckenham Place Park. At the entrance to the park besides the River Ravensbourne there was a poster attached to a post offering a £10,000 reward for a missing dog, photo 6, which sadly has been missing almost a year. Recently I seem to have seldom been out for a walk without encountering similar posters appealing for information about lost or stolen dogs, though never before with quite such a large reward.
| | | |
| --- | --- | --- |
| | | |
| (7) Beckenham Place Park | (8) Beckenham Place Park | (9) Signpost, Beckenham Place Park |
The Capital Ring runs through Beckenham Place Park for some distance, first crossing by an area of park, photo 7, before heading over a railway to a more wooded area, photo 8. All the while the Capital Ring has been sharing its route with a branch of the Green Chain Walk. In the middle of the park is another signpost for a the two paths, photo 9. As I passed the signpost it became increasingly clear that the distances shown on the walk way markers where significantly more than that shown by my GPS. At the sign post the GPS said I had done a total of 5.78 miles for the day yet the sign was saying it 4¾ miles just to Eltham Palace, let alone Falconwood.
| | | |
| --- | --- | --- |
| | | |
| (10) Green Chain Walk display board | (11) Beckenham Place Park | (12) St Pauls chuch, New Beckenham |
Alongside the signpost is another information board for the Green Chain Walk, photo 10. The path leaves the wooded area and then meets up with the Beckenham Place Park golf course although fortunately there are no greens to be crossed, photo 11, before passing the Beckenham Place Park mansion and entering another stretch of road walking. First along Southend Road, then down Stumps Hill Lane and into Worsley Bridge Road which houses the Kent County Cricket club. Another signpost showed it was now 3 ¼ miles to Crystal Palace Park. A game of Hockey was taking place on a pitch beside the road which made quite entertaining viewing and I had a few minutes break watching the game. The path then turns into Brackley Road where it passes the church of St Paul in New Beckenham, photo 12. An impressive building but another one it proved very difficult to get a good shot of.
| | | |
| --- | --- | --- |
| | | |
| (13) Lennard Road, New Beckenham | (14) Lennard Road, New Beckenham | (15) The Beck, Cator Park |
At the end of Brackley Road he path turns into Copers Cope Road for a short distance and then into Park Road where a subway takes the Capital Ring past New Beckenham Station and into Lennard Road. Photo's 13 and 14 are taken from Lennard Road looking towards the junction with Kings Hall Road into which the path goes. From Kings Hall Road the Capital Ring goes down a footpath into Cator Park. Just before The Beck, photo 15, I spotted a Woodpecker drumming high up in an oak tree.
| | | |
| --- | --- | --- |
| | | |
| (16) Cator Park | (17) Alexandra Recreation Ground | (18) Penge East Station |
The path continues its route through Cator Park, photo 16 before heading back to Lennard Road which is followed to Kent House Road. A footpath then leads between playing fields to Cator Road. As I was walking along the footpath I passed another walker coming in the other direction who was also walking the Capital Ring, the guidebook open in a mapcase around his neck was a bit of a giveaway. I was going to stop and say hello but he just strode straight past at a fair pace. From Cator road the path turns down a track that leads to the Alexandra Recreation Ground, photo 17. From the recreation ground the path goes into Maitland Road and then back into Lennard road again which leads up to Penge East Station, photo 18, where the station footbridge is used to cross the railway line. Just outside the station I popped into a shop to get a bag of crisps. It had started raining more heavily and every time I put a crisp up my mouth water trickled up my sleeve which was rather annoying.
| | | |
| --- | --- | --- |
| | | |
| (19) Station Road, Penge | (20) Penge High Street | (21) Green Chain Walk display board |
The path goes down Station Road, photo 19, and into Kingswood Road which was festooned with posters asking people not to let their dogs foud the streets before reaching Penge High Street. Two railway bridges are passed, one besides Penge West Station and a few yards further on a second more atractive brick arch, photo 20, that frames the entrance of the Capital Ring into Alexandra Palace. Just inside the park there was another Green Chain Walk display board, photo 21. Not far past this point the route of the Green Chain Walk and Capital Ring which have followed each other almost from the banks of the Thames finally split up. The Green Chain walk taking a more direct route through to its end at Crystal Palace station than the Capital Ring which takes a more circuitous route round the park
| | | |
| --- | --- | --- |
| | | |
| (22) Signpost, Crystal Palace Park | (23) Crystal Palace Park | (24) SS Crystal Palace ships bell |
Besides the Green Chain Walk display board there was another Capital Ring signpost, photo 22. This showed it was 7 3/4 miles from Grove Park and only 1 mile to the station at Crystal Palace which was a good thing as it had really started raining heavily! The route follows a broad path, photo 23, up towards the sports centres before turning right and starting its meander around the Crystal Palace Park. An alternative shorter route is signposted through the National sports centre but despite the rain I took the longer route around. On its way around the park the path passes SS Crystal Palace ships bell, photo 24, which now serves as a World War 2 war memorial.
| | | |
| --- | --- | --- |
| | | |
| (25) The Terraces, Crystal Palace | (26) Crystal Palace Transmitter Mast | (27) Crystal Palace Station |
The path makes its way besides a fishing lake, past the concert stage and up towards the terraces, photo 25, where the original Crystal Palace stood after it was moved there from Hyde Park in 1852 until burnt down in 1936 and where the transmitter mast, photo 26, is currently situated. The path then runs alongside the terraces before a very short stretch of road walking leads to Crystal Palace station, photo 27. To the left the modern day terraces of the Crystal Palace Football club could be seen.
When I reached the station I found the line was closed due to engineering works and thus had to wait for the replacement bus service which slowly made its way to Balham Station where I could pick up the underground.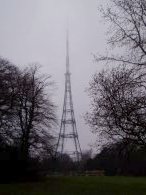 (28) Crystal Palace Transmitter Mast
The GPS made the length of this stage 7 miles long.

Back to:
Capital Ring Stage 2

On to:
Capital Ring Stage 4


Back to:Walking index page
©2012 Bertuchi.co.uk. Please contact me using the email button on the right if you have any questions or comments regarding the site. Any feedback and additional information about places of interest on the walks is always welcomed.
All rights reserved. Please contact me if you want to use any of the images or information from the site. ENJOY YOUR WALKING